Why Choose QIC Direct?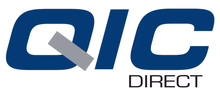 About Us:
QIC Direct are a private limited company operating within the United Kingdom specialising in and providing the wholesale of aluminium profiles, dry and glass wall partitions and other hardware ironmongery supplies.
The combined years of experience of the QIC group has allowed QIC Direct to offer amazing customer service in the form of money back guarantees, having expert advice on hand to answer any questions you may have on certain products and next day delivery on select products.
What do QIC Direct offer?
We offer hardware products such as hinges & pivots, lever latch sets, drop down seals and other hardware ironmongery supplies to name a few that are on offer with QIC Direct. We also offer a range of aluminium profiles, such as drylining trims, ceiling trims, and glass partitioning. Having an account with QIC Direct can give you access to more information on products and services and allows you to stay in touch with any updates or news surrounding QIC Direct.
You can also get in contact via the contact us here section of the website, you can get in touch any time between 8:30am - 5pm Monday to Friday.
Why QIC Direct and not other wholesalers?
Our range includes the most leading brands of products that are available on the market today, unlike other companies in our sector we do our very best to get your orders out to you as soon as you've pressed checkout, even offering next day delivery on selected products.
QIC direct are also considered one of the leading enterprises in aluminium trims for interiors, our glass and drywall partitions have been hugely successful. We now also offer suspended and metal ceiling component systems and a range of Mann McGowan products, such as intumescent strips and acoustic seals, all of which can be found and brought from our website.
FAQs
1. What can I do if I need to return an item?
QIC Direct have a 30 day return policy as long as the product is returned in a resealable state along with the original packaging and fixtures, you will also be issued a refund with a minus of 25% for a restocking fee and we cannot refund any carrier charges, those will need to be sorted with the carrier and please do get in touch with us before making any returns.
2. Where can I find cutting/ drilling information?
Every product will have all the information you need on the product description but if you have further questions, feel free to use our email or telephone number to get in touch.
3. Do you provide or install any glazing services?
No, while QIC direct doesn't offer any glazing service we can help you with finding the right one for you, all you need to do is speak to one of our team members and we'll point you in the right direction.
Who works at QIC Direct Limited?
Alicia Irwin - General Manager
Alicia has worked within the QIC Group for over 4 years, and is responsible for the day to day running of QIC Direct. Alicia brings with her a wealth of knowledge and experience in the sales, purchasing and operational aspects of the business.
Ben Nicholls - Sales Coordinator
Ben has been a member of the QIC Direct team since its inception in October 2021. Ben deals with orders and enquiries in an efficient and professional manner, ensuring orders are despatched and delivered on time.
Where to find us:
We are based in Buckingham. Our business address is QIC Direct ltd, Radclive Road, Buckingham, MK18 4BL, United Kingdom. We offer collection services for some of our products ready 24 hours after your order is placed, please enquire before collecting.
Head to our website or reach out to us for more information!